Breakfast
- Served Until 1:00 pm -
Breakfast specials 1-7 come with choice of hash browns or fruit, toast on request
1. BASIC
$10.50
Two eggs any style

2. STEAK & EGGS BASIC BREAKFAST
$17.95
Two eggs any style

2. VEGGIE
SCRAMBLE
$14.50
Three eggs, mixed cheese, mushrooms, spinach, avocado, tomato peppers & onions

3. TURKEY AVOCADO & JACK SCRAMBLE
$15.50
Three eggs, grilled Boar's Head Turkey, fresh avocado & jack cheese

4. BACON OR PRAWN SCRAMBLE
Bacon $15.50
Prawn $16.95
Three eggs, mixed cheese, bacon, diced peppers & onions


5. DENVER
OMELETTE
$15.50
Three eggs, Boar's Head Ham, cheddar cheese, onions & peppers

6. EGGS
BENEDICT
$16.00
Two poached eggs, Boar's Head Ham & hollandaise on an English Muffin

7. CRAB CAKE
BENEDICT
$17.95
Two poached eggs on top of 2 crab cakes with hollandaise on an English muffin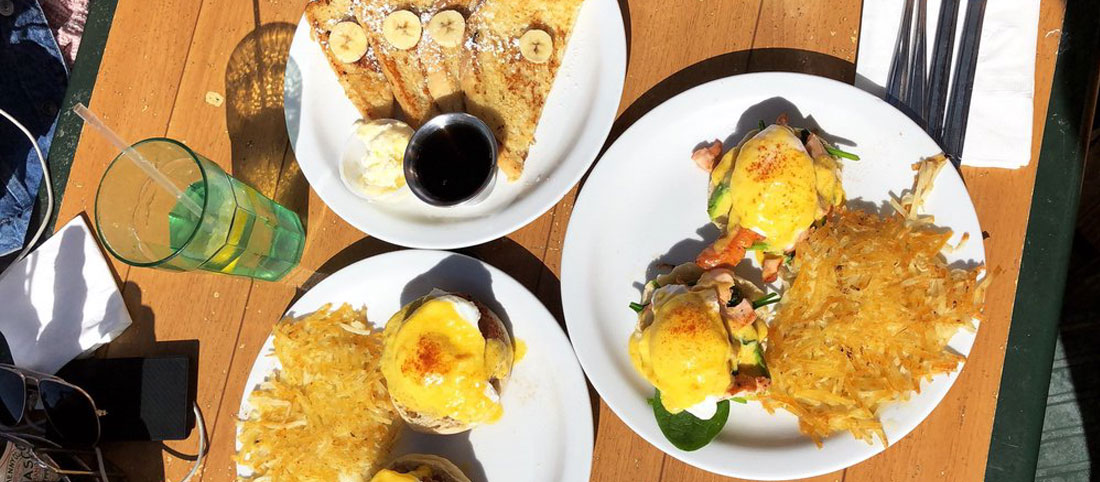 House Breakfast Specials
HUEVOS RANCHEROS
$15.00
2 eggs over medium, house beans, melted cheese on 2 crispy corn tortillas topped with our house ranchera salsa and sour cream with hash browns-$
CHILIQUILES
$16.00
Add Ons: Sausage +$3.50, Chicken +$4.50, Prawns +5.50 Three eggs scrambled with tortilla strips, house made salsa & queso fresco topped with sour cream served with hash browns, 2 corn tortillas & a side of house beans

SAND BAR BREAKFAST BURRITO
$14.50
Three eggs, bacon, sausage, mixed cheese, green chillies, avocado & hash browns with sides of house made ranchera salsa & sour cream


BREAKFAST BURRITO
$12.50
Three eggs, mixed cheese, avocado & hash browns with a side salsa

SAND BAR BREAKFAST COMBO
$18.50
Two eggs any style, hash browns, 2 pancakes with butter & maple syrup with choice of sausage or 2 pieces of bacon BREAKFAST SANDWICH WITH FRUIT Two eggs, cheddar cheese, bacon or sausage & avocado on sliced sourdough served with a side of fruit - $13.50 Add bacon or sausage +$2.50


Sides
PANCAKES (2)
$10.00
with butter and maple syrup

HASH BROWNS
$4.95

BACON OR SAUSAGE
$4.95

HASHBROWNS
$5.50

1 EGG
$4.50

2 EGGS
$6.50


FRUIT CUP
$6.50

SLICED AVOCADO
$5.00

SLICED TOMATO
$3.00

TOAST
$3.00

SOUR CREAM
$1.00

SMALL GUAC
$2.50

Lunch & Dinner

Seafood & Appetizers
FRESH CEVICHE
$14.95
Fish & shrimp in lemon & lime juices, salsa fresca & avocado w/tortilla chips

COCKTAIL DE CAMARONES
$14.95
Jumbo prawns, cilantro, onion, cucumber, avocado & lime juice in our house special sauce

CRAB CAKES
$14.95
Two crab cakes on top of greens with a side of saffron aioli

COCONUT PRAWNS
$14.95
Panko & coconut crusted jumbo prawns with sweet chili sauce

STEAMED CLAMS
$17.95
White wine, fresh garlic, lemon and parsley with side of garlic bread.


CRAB QUESIDILLA
$16.95
Mixed cheese, red & green peppers, onions and a side of chipotle aioli

CAPITOLA QUESIDILA
$13.95
Crispy bacon, mixed cheese, green chilies, peppers, onions & side of chipotle aioli

CLAM CHOWDER / BREAD BOWL $11.95
cup $5.95 / bowl $7.95

MINNA'S SWEET & SPICY CHICKEN DRUMETTES
$12.95
Tossed in hot wing sauce with side of celery & ranch dressing

NACHOS
House beans & salsa, mixed cheese, sour cream, guacamole & jalapeños - $12.95
Chicken Nachos - $14.95
Steak Nachos - $16.95


Soup & Salads
CLAM CHOWDER
Cup $6.50, Bowl $9.00
Sourdought Bread Bowl $13.00
HOUSE SALAD
$10.00
Mixed greens, carrots, tomato, cucumber, radishes & croutons
SEARED AHI TUNA SALAD
$18.95
Seared ahi tuna with sesame seeds, mixed baby greens, tossed in a wasabi vinaigrette, with bell pepper, cucumber, wantons & avocado. option: substitute AHI with GRILLED PRAWNS
SKIRT STEAK SALAD
$18.95
Grilled skirt steak, mixed greens, arugala, dried cranberries, celery, red onion, blue cheese crumbles & choice of dressing
SAND BAR SESAME CHICKEN SALAD
$18.95
Grilled chicken breast, mixed greens, cucumbers, wantons, avocado, peanuts, dried cranberries and our sesame dressing

South of the Border
TACOS (2)
$13.95
Two tacos with shredded cabbage, black beans, salsa, cheese & spicy house avocado sauce topped with cilantro & onion served with tortilla chips- VEGGIE - $13.95 CHICKEN - $14.95 STEAK -$15.95 PRAWN -$15.95 GRILLED MAHI MAHI -$16.95 sub black beans w/ refried beans optional
SAND BAR BAJA STYLE FISH TACOS (2)
$16.95
Fried panko beer battered cod, shredded iceberg lettuce, spicy avocado sauce, ranch dressing, cilantro & onion-$14.95 **house suggests add refried beans no extra charge
Fryer
FISH-N-CHIPS
$15.00

CALAMARI & FRIES
$16.00

FRIES
$6.00


ONION RINGS
$7.00

GARLIC FRIES
$8.50

SAND BAR BIG BASKET
$22.95
Fish, chips, calamari, onion rings, & coconut prawns


Burgers & Sandwiches
All items served in a basket with fries - all burgers 100% black angus certified beef.
Subsitute fries with cole slaw - or onion rings + $2.00 - small house salad + $3.95
CLASSIC BURGER
$14.95
1/2 pound burger, lettuce, tomato, onion, pickle & choice of cheese

SAND BAR BURGER
$15.95
1/2 pound burger, avocado & Swiss cheese with grilled onions & mushrooms

WESTERN BACON CHEDDAR BURGER
$15.95
1/2 pound burger, grilled onions & BBQ sauce

HAWAIIAN TERIYAKI BURGER
$15.95
1/2 pound burger, teriyaki sauce, lettuce, grilled onion & pineapple

BACON BLACK-N-BLUE BURGER
$15.95
1/2 pound burger, chopped crispy bacon, crumbled blue cheese and mayo

VEGGIE BURGER
$13.95
Black bean vegetarian patty, lettuce, tomato, onion & choice of cheese

CALAMARI SANDWICH
$16.95
Grilled breaded calamari steak, Aneheim chili, jack cheese & cole slaw


MAHI MAHI FISH SANDWICH
$16.95
Lettuce, tomato, onion & dijon aioli on ciabatta

SAND BAR CHEESE STEAK SANDWICH
$16.95
grilled sliced steak, onions, peppers swiss & pepperjack cheese with chipotle aioli on ciabatta
Add mushrooms +$1.00

TOASTED TURKEY AVO JACK SANDWICH
$14.95
Lettuce, tomato, mayo & onion w/bacon on wheat
Add bacon +$2.00

B.L.A.T. SANDWICH
$13.95
Bacon, lettuce, avocado & tomato with mayo on wheat bread

FRIED CHICKEN SANDWICH
$16.95
Shredded lettuce, tomato & chipotle aioli on ciabatta

Kids Menu
CHICKEN STRIPS
$11.95

HAMBURGER
$12.95

GRILLED CHEESE OR QUESADILLA
$10.95


All kids menu items served with french fries
*Consuming raw or undercooked meats, poultry, seafood, shellfish, or eggs may increase your risk of food-borne illness.